Journal of Mechanical Engineering and Technology (JMET)
PRINT ISSN No.: 2180-1053
E ISSN No.: 2289-8123
is a journal published twice a year by Penerbit Universiti Teknikal Malaysia Melaka (UTeM). This peer-reviewed journal is organized by Fakulti Kejuruteraan Mekanikal (FKM), Universiti Teknikal Malaysia Melaka (UTeM). This journal is used for dissemination of original and profound research in all fields on mechanical engineering and technology, by both local and international authors, aiming to present the latest development and achievements in scientific research.
Cost of Publication 
The manuscript selected to publish in this journal is free of charges.

Publication Issues 
The publication issues for this journal is twice a year on June and December every year.
JMET is currently abstracted and indexed in DOAJ, Google Scholar, Malaysian Journal Management System (MYJurnal), Global Impact Factor and Malaysian Citation Index (MYCite).
Themes 
All contributions are expected to deal with, but are not limited to, the following themes:
1.     Energy Engineering
2.     Automotive Engineering
3.     Thermal-Fluids
4.     Structure and Material Engineering
5.     Design and Innovation
6.     Plant and Maintenance Engineering
7.     Vibration and Control Engineering
8.     Bio Mechanics 
Facebook
https://www.facebook.com/jmet.utem/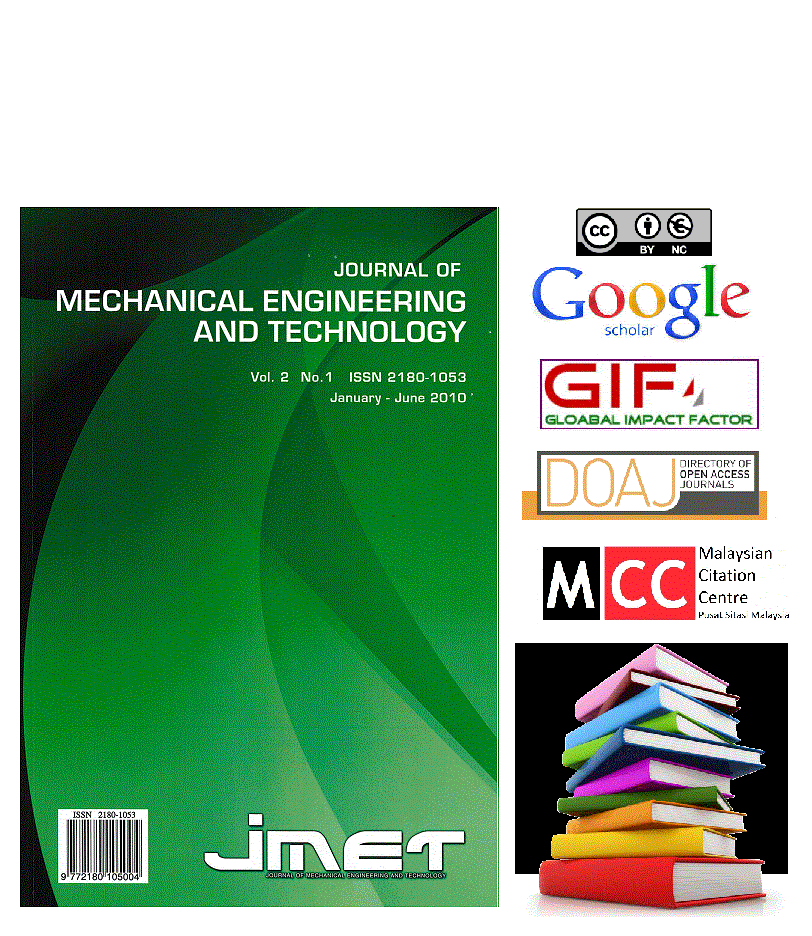 Journal of Mechanical Engineering and Technology
by
Penerbit, Universiti Teknikal Malaysia Melaka
is licensed under a
Creative Commons Attribution-NonCommercial 4.0 International License
.
Please refer to all issues at
http://journal.utem.edu.my/index.php/jmet/issue/archive
.
Announcements
No announcements have been published.
PRINT ISSN No.: 2180-1053
E ISSN No.: 2289-8123