International Journal of Electrical Engineering and Applied Sciences (IJEEAS) is an Open Access Journal with the aim of publishing various kind of research articles in Electrical Engineering and Applied Sciences, focusing mainly in the field of Sustainable Energy, Control System and Industrial Automation. Our publication will contribute towards new exploration of knowledge and state-of-the-art technology for the scholars and industrial professionals in these fields. Prospective authors are invited to submit their original contributions with topics of interest include (but are not limited to) :
Renewable Energy;
Energy Storage and Management in grid application and renewable energy integration; 
Power System Quality, Analysis and Protection; 
Power Electronics, Electric Machines Design and Drives; 
Linear and Non-linear Control Systems; Industrial Automation; 
Mechatronics and Intelligent Robotics; 
Applied Sciences – mathematical modelling of storage devices, energy auditing etc; and 
Technical and Vocational Education and Training (TVET)
The submission of manuscript to this journal is Free of Charge (FOC).
Indexing:
IJEEAS is now indexed by
UDL-Edge - i-Journals (www.ijournals.my)
UDL-Edge - i-Focus (www.ifocus.my)
Frequency:
IJEEAS will be published twice a year. In a year, two (2) issues of journal will be published, which will be in the month of April and October. 
ISSN:
2600-7495
e-ISSN:
2600-9633
Journal Editorial Process: 
In general, the editorial process will take 13 weeks once an article is submitted by authors through online system. The editorial process includes reviewing, proofing/ copyediting and the publication. Before an article is proceeded to reviewing process. we typically look for < 30% simiarity to the author's own previous works or materials that are referenced.    
 
All manuscripts must be submitted through IJEEAS on-line review system.
For new user, please register HERE.
For paper submission, please refer the information for authors with the submission guidelines at HERE.
Important Dates
January 31

st

, 2020 – Manuscripts submission deadline
February 28

th

, 2020 – Complete review and acceptance notification
March 15

th

, 2020 – Final manuscripts due
April, 2020 – Issue of

IJEEAS

Vol. 3, No. 1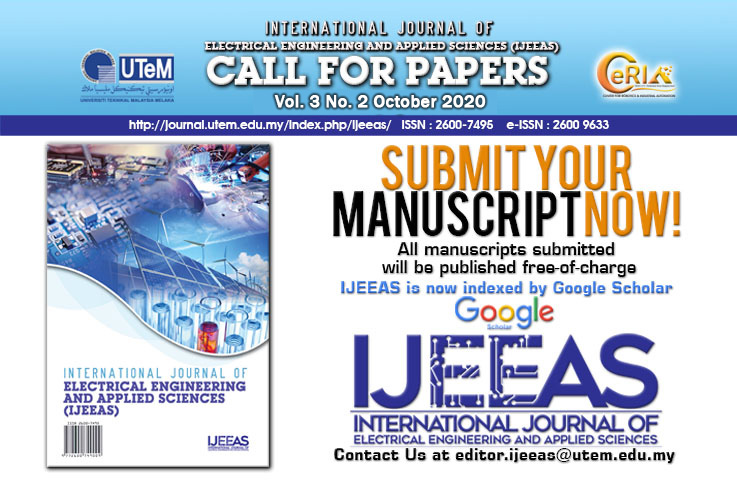 Announcements
No announcements have been published.
Vol 2, No 2 (2019): Electrical Engineering and Applied Sciences
Table of Contents
High Voltage and Power System
Sustainable Energy
Control System
Mathematics and Applied Science in Electrical Engineering
Engineering and Technical Education
Others
This work is licensed under a
Creative Commons Attribution 3.0 License
.
ISSN: 2600-7495